Route 53 SubDomains
In this tutorial, we'll setup our domain name using Route53. We go over pointing our nameserver to Route53, and sync up CNAME record for our domain to point to a very simple Apache web server. In our case, our ns records are already exist, and we want to copy new ns records created from Route53 over to our existing registrar's records.
Create a Hosted Zone for our domain
A hosted zone is a container for the information about how we want to route traffic on the Internet for a domain and its subdomains, if any.
To create a hosted zone:
Open the Amazon Route 53 console
Click Hosted Zones in the navigation pane.
Click Create Hosted Zone.
In Domain Name, enter domain name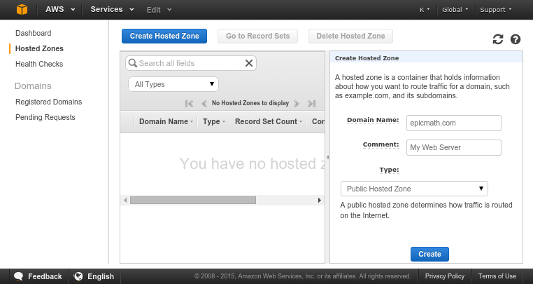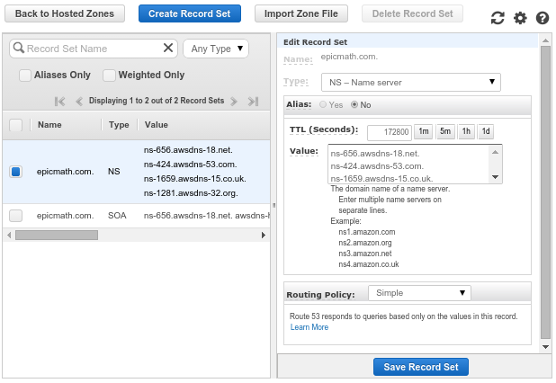 Now, we can see new NS records from aws, and we want to copy it over to our current DNS provider's records.
Next, we want to setup a record inside of our Route53 to point our server. We're going to create a new record set.
Create Record Sets
Let's configure the alias resource record set for our www subdomain.
On the Hosted Zones page, select the hosted zone that we created for our domain.

Click Go to Record Sets.

Click Create Record Set.

Under Create Record Set, do the following:

In Name, type www. The root domain is already specified for us, and the connecting period (.) appears when we start typing.

From Type, select A - IPv4 address.

In Alias, select No.

Put ip address as a value.

From Routing Policy, select Simple.

Leave Evaluate Target Health set to No.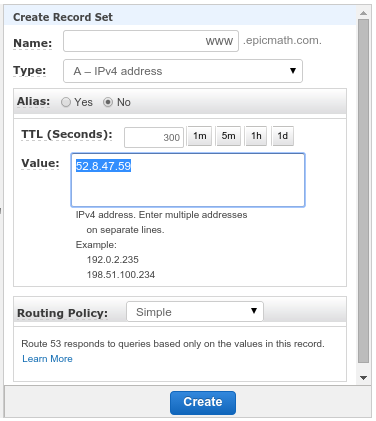 Click Create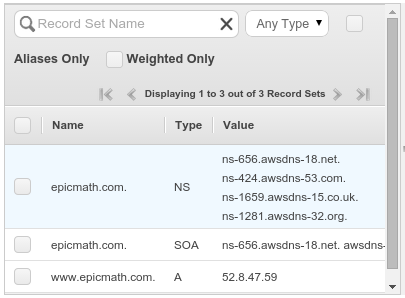 Alias setting
Now we want to set an alias (butlerlegaltech.com) for www. butlerlegaltech.com: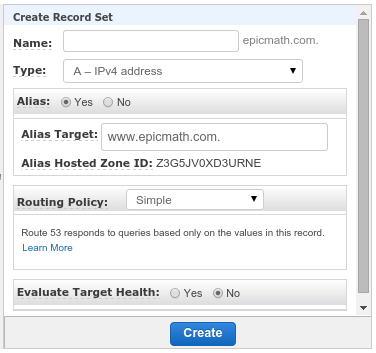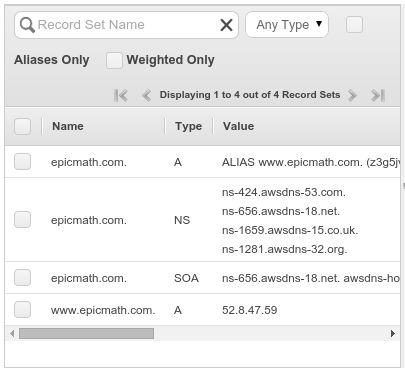 Check propagation
To see if the name server change has gone through, we use a command line utility such as dig or nslookup:
dig butlerlegaltech.com

// and

nslookup www.butlerlegaltech.com